Summer Time in Chora, Ios Greece
Rooms Ios Island Greece Summer Time Rooms Ios Greek Island
Sprinkle your holidays with excitement and fun and live amazing experiences on Ios Island Greece and the welcoming ambiance of Summer Time Rooms!
Spend the holiday of a lifetime at Summer Time, located right in the heart of Ios Town or Hora (Chora), one of the liveliest towns in the Cyclades with a refreshingly youthful atmosphere.
The Hora of Ios island Greece is a typical Cycladic town capital with quaint island features that will steal your heart away. The lovely whitewashed houses, cobblestone alleys, windmills and churches with domed roofs will enchant you, while the plethora of bars and clubs will make your nights out simply unique.
Summer Time is one of the most welcoming 2-key vacation rentals in Hora, Ios and is comprised of 8 bright and comfortable rooms beautifully appointed and designed to ensure a pleasant stay.
All Rooms are air-conditioned (a/c) and include:
en-suite bath with a hair dryer
a fridge     
a TV
a safe deposit box
a balcony or a veranda with hillside views
COVID-19 Update
Summer Time has developed an action plan and individual protocols for each section of the establishment to take measures, prevent and manage suspected Covid-19 cases in order to limit the spread of the virus to staff and guests.The action plan is conformed by the recommendations of Greece's public health organization – EODY.
According to the plan, the management has appointed a health coordinator to supervise that protocol is being followed and a doctor on call who will act on the instructions of EODY for testing suspected cases of Covid-19.
Health coordinator is the owner Stavraki Ourania. tel: +30 6983056490
Check-in 3:00pm / Check-out 11:00am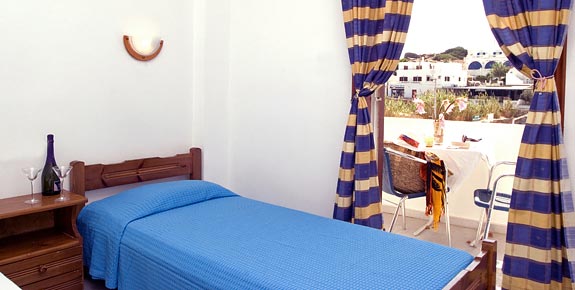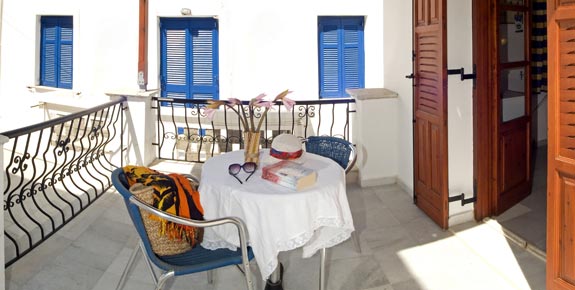 Facilities & Services
At the Summer Time Rooms you will find several facilities and services, making your stay even more enjoyable, featuring:
reception desk (09:00 - 14:00 & 17:00 - 20:00)
parking area                         
outdoor games area
daily maid service
Extras
At Summer Time we also provide:
Outdoor Games Areas
Parking Area
Our guests can also use the facilities and services of Hermes:
Swimming Pool
Pool Bar
Roof Garden
Indoor & Outdoor Café-Bar
Barbecue Nights
Best Aegean View in Ios
From the Summer Time Rooms, quests can easily reach the following destinations:
Ios Port: 4 km
Mylopotas Beach: 3 km
Supermarket: 300 m
Bus Stop: next to the vacation rental
Prepayment Policy
In order to make a reservation at the Summer Time Rooms for rent in Ios Town (Hora), it is necessary that you send 20% of the total cost of your stay via credit card (Visa, MasterCard).
If you wish to make your prepayment by bank deposit, kindly contact us.
Cancellation Policy
If a reservation is cancelled:
22 or more days prior to the arrival date of the visitor - client, the prepayment is fully refunded (any potential expenses are charged to the client)
14 to 21 days prior to the arrival date of the visitor - client, 50% of the prepayment is refunded to the client (any potential expenses are charged to the client)
13 or less days prior to the arrival date of the visitor - client, the prepayment is not refunded.